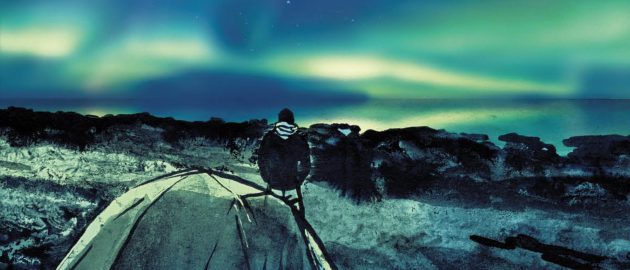 Mathilde Ramadier is an author, scriptwriter and translator. After a bachelor in design and a master in philosophy, she left Paris to Berlin to discover its cultural vitality. She co-signed successively several graphic novels (Sartre, Editions Dargaud, March 2015; Berlin 2.0, Futuropolis, February 2016) and translated others from French to German – and conversely. 
Her next book, to be published in February 2017, is entitled Et il foula la terre avec légèreté. The story takes place in Norway, in the Lofoten islands. It deals with the Norwegian oil industry and aims, above all, at presenting the ecological philosophy of Arne Næss, yet little known in France. She also wrote an introduction to the first French anthology of his texts, Une écosophie pour la vie, to be published in March 2017 at the Editions Seuil. Currently residing in Oslo as a recipient of the grant « Hors les murs Stendhal », she continues in the field her work concerning this philosopher.
In this framework, l'Institut Français de Norvège is pleased to welcome Mathilde within its walls for a « Club Science » conference, that will take place on Tuesday, January 31st, at 19:00. Rather than giving an academic lecture, Mathilde wishes to introduce us to to the philosophy of Arne Næss through her artistic work. The conference will be in English.
Previously to the conference, you are warmly welcome to attend the vernissage of an exhibition about Et il foula la terre avec légèreté, at the library of the Institut Français, at 18:00.