Johanna Zanon is an independent researcher and curator based in Oslo, with a strong interest in fashion. In addition to her scholarly activity, she curated two film cycles on French fashion on screen in 2019 and 2020. She also curated the exhibition "As Handsome as the Chance Encounter" in Oslo in 2020. With the Institut français's support, she is now developing a new, ambitious project: a series of critical walks and map of Oslo's fashion. This project, currently in its research stage, will shed new light on the cultural history of Oslo's fashion. We have met her to talk about her project and career.
> Johanna Zanon, you are a researcher specialized in fashion. Your next project aims at shedding new light on the fashion history of Oslo, which is little known. How did you come up with the idea?
The idea originated from a mere logistical question while planning three different fashion projects at RAM Galleri, Oslo Metropolitan University and Cinemateket i Oslo. Quite simply, I had imagined connecting them through a map. The idea then became a project in its right: an interactive map, identifying the historical places of fashion, textiles and costumes.
The project drastically changed to become a contemporary art project, with a series of walks on fashion in the public space. The map is no longer the goal of the project, but the medium. "Critical Fashion Walk" will include artistic, sonic, and textual interventions that have the potential to create multi-sensory, embodied, and experiential ways to engage critically with Oslo's fashion, past, present, and, possibly, future.
In the spring of 2021, the preliminary stage aims at building a community around the project that will eventually culminate in collective co-production. "Critical Fashion Walk" bridges theory and practice, contemporary art and fashion studies. Its goal is to set bodies in motion in order to set discourses in motion.
> Is fashion art or commerce?
This is an ongoing debate in the fashion industry, as well as within the research field. Fashion and art have many meeting points, in France, Norway, and beyond. Some fashion designers are pushing the boundary between fashion and art. Collaborations between fashion brands and artists are on the rise, as well as fashion exhibitions in contemporary art galleries and museums. However, most of fashion falls outside the artistic field, including fast fashion. Fashion is first and foremost an industry, with its companies, organisation, and ecosystem.
As for my own curatorial projects on fashion, most of them took place in an artistic context, including "Critical Fashion Walk" and the exhibition "As Handsome as the Chance Encounter". However, my goal is not to prove that a certain type of fashion is a form of art. Instead, I am interested in exploring how art gives another perspective on fashion, whether artistic or commercial. Displacing fashion out of its context of production, distribution, and consumption allows us to further its critical analysis.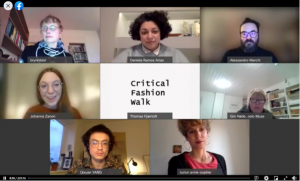 Screenshot form the second webinar of the preparatory phase of «Critical Fashion Walk», March 10th 2021.
> Has French fashion influenced Norwegian fashion? To what extend?
The transnational fashion relationships between France and Norway have been rich since the second half of the nineteenth century. This is reflected in Nasjonalmuseet's collections, which preserve haute couture garments labelled Worth, Schiaparelli or Dior. Up until the Second World War, the fashion system was organised with a centre – Paris for women's fashion and London for men's fashion – where new trends were elaborated before spreading to the periphery, including Scandinavia.
Elegant Norwegian women from the elite followed the rhythm of Parisian seasons. Some travelled to the French capital, where they bought tailormade outfits, like « Bébé » Knudsen, a client of Jean Patou and Chanel. In 1929, she was awarded the most beautiful woman in Deauville. Others bought their outfits from Norwegian department stores, like Steen og Strøm and Molstad, which had their own salon dedicated to haute couture designs. Either they imported designs directly from Paris or they manufactured them from patterns, called "toiles" in the fashion jargon.
However, fashion relationships were not one-sided. Norwegian consumers did not only adapt Parisian trends, but they also challenged and sometimes rejected them. Parisian dressmakers drew inspiration from Norwegian garments as well. In the interwar years, when winter sports were becoming popular in France, sportswomen in the Alps favoured the "culotte norvégienne", the name given to Norwegian ski trousers with long legs. Norway also supplied French couture with high quality raw materials, such as fur and wool.
Norwegian fashion designers went to Paris to get trained and found success there. This contributed to the reputation of Paris as a fashion capital. Per Spook came to Paris in 1959 and worked for major haute couture houses before he established his own in 1977. Another example is Pia Myrvold, who showed her avant-garde collections at Paris Fashion Week in the 1990s.
> You have also organised two film cycles and lectures on French fashion. Is cinema well-suited to talk about fashion?
Cinema is a medium – in that, it has the capacity to talk about any topics, fashion included. But it is true that the relationships between film and fashion date back from the origin of the medium itself. One of George Méliès's comic short films depicts a man who tries to undress, but every time he takes off one piece of clothing, another one appears right underneath, so he is Going to Bed Under Difficulties (1900). Incidentally, we used this film in place of a trailer at Cinemateket i Oslo.
French fashion holds a special place in our collective imagination as it is associated with both creativity and excess. As fascinating as this world is, it is not easily captured on screen without falling for superficial caricature or contemplative admiration, both of which are rather dull, if I may say so. The film cycle I curated in 2019 and reworked in 2020 therefore aimed at unveiling a more complex and nuanced French fashion industry, including production, promotion, and consumption.
For example, the figure of the fashion designer is ubiquitous in films about fashion. Yet their depiction is often stereotypical: they are but tormented, self-absorbed geniuses. In contrast, we showed Scandale aux Champs-Elysées, a 1949 thriller, in which a charming dressmaker was fully able to collaborate with other employees. This likely stemmed from the fact that Jacques Fath, one of the most successful Parisian couturiers in the 1940s, played the part himself.
In total, the films showed how French fashion has been depicted on screen from the early days of cinema to the present day through different genres. Film directors have integrated fashion to their narratives, instrumentalising it for dramatic effect, building characters and atmospheres and moving the plot along. Because films can appropriately show garments in motion, and conversely garments can be a driver for cinematographic action, fashion in films has been a fruitful research topic for both fashion and film scholars.
> Can fashion be a tool to analyse history, including that of social movements?
Fashion is ubiquitous: everyone wears clothes, everywhere in the world. This makes it a suitable tool to analyze history as much as contemporary societies. Furthermore, fashion allows for looking at different levels of analysis from the intimate sphere – as it deals with the body, individuals' feelings and emotions – to social, cultural and economic relations at the local, national, regional and global scales.
Social and political movements have used clothes as a symbol for their revendications from the French revolutionaries' Phrygian caps to the "pussy hats" during the US presidential campaign in 2016. As a form of non-verbal communication, fashion is open to ambiguities and misunderstandings and thereby resists oversimplification. It is precisely because fashion provides a unique vantage point on social and political issues that I taught a course on the history of politics and fashion in 2017 for the Bachelor students at the University of Oslo.
That being said, fashion has been a contested topic of research. Feminist scholarship has had, in particular, a complex relationship with fashion, long considered an obstacle in the way of women's freedom, a sign of submission to oppressive beauty standards. It is mostly since the 1990s that the capacity of fashion to question gender in social sciences has been reassessed.
> You have also worked as an "art concierge". What does the position entail?
I worked as an "art concierge" for Clarion Hotel Oslo, a new hotel in the Norwegian chain Nordic Choice, from July 2019 to the beginning of the pandemic – and I hope to resume my collaboration with the hotel when the conditions allow it. My position was at the intersection of hospitality and contemporary art. Such a position did not previously exist in Norway, so I had some latitude to define my own role.
Traditionally, a concierge in a luxury hotel answers all kinds of requests from customers, ranging from the mundane to the extraordinary. An art concierge can be seen as a specialization of the occupation, dedicated to providing information on artistic events. Before the creation of the position at Clarion Hotel Oslo, it only existed at Royal Monceau in Paris. Since then, similar positions have opened in Germany and Belgium. Part of my work was to create a monthly "art menu" with a selection of exhibitions and events, available in every room and the lobby.
Moreover, I did guided tours of the permanent contemporary art collection of the hotel, curated by Sune Nordgren. He selected works that had a connection to Edvard Munch, as the hotel was located near the new Munch Museum in Bjørvika and one of its sponsors. The hotel also displayed an original artwork by Munch in the lobby, borrowed from the museum.
Lastly, my position consisted in curating a monthly program of cultural and artistic events, in connection with the permanent collection and in collaboration with neighboring cultural and artistic institutions, such as Oslo Kunsthall and Ekeberg parc. This program, titled "After After Munch", included lectures, film screenings, and workshops like "Art+Feminism Wikipedia edit-a-thon". This was unfortunately halted due to the pandemic.
> Do you think that the COVID-19 pandemic will change the future of fashion?
Fashion is constantly changing; it is its nature. In that sense, the pandemic has already influenced fashion. Whether this will have any lasting, positive impact on the fashion system remains to be seen. I have no idea if it will and do not wish to engage in fashion forecasting. But one can certainly hope so!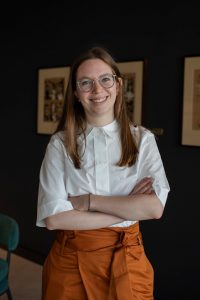 Portrait of Johanna Zanon, 2019 (c) Clarion Hotel Oslo / Marikafoto.
Discover more on her work and contact info on her website.