Les Piñatas is an association founded in Lille by 2 artists: Madeline Wood and Léa Machado. Both are visual and plastic artists, who graduated from the École Supérieure d'Art et de Design de Valenciennes (Valenciennes School for Art and Design). They started this project in 2016. They are now working with the Norwegian collective Pamflett, and will come to Bergen in june 2021 for a collaboration during Bergen Art Book Fair.
We are glad to present here a short interview with Les Piñatas, before their travel to Norway:
> Madeline Wood and Léa Machado, you have both founded the association Les Piñatas in 2016. How would you describe it in 3 words?
Collective – Transmission – Goodwill
> What inspired you to create les Piñatas ?
We wanted to create a lab for artistic experimentation, a place where practices would not be isolated but could interact in a simple, happy and collective way. We had just graduated from the Fine Arts school and Les Piñatas allowed us to bring together artists with very different art practice, but very complementary. We are growing together.
> Your aim is to develop cultural projects, especially around micro-edition. What is micro-editing for you? (micro-edition is a type of self-publishing with limited printing and zine type of publishing)
Micro-edition is a great way to appropriate the book as an object. Particularly if you don't have any relations with traditional editing or reading. It's a practice that carry a large spectrum from a very simple «do it yourself' to the very finest handmade editions. As plastic artists, micro-edition allowed us to produce new artworks in a fast and collective way, and to disseminate our work directly to the readers as a first step. Then, quickly, we have been able to teach and give out what we've learned from our workshops and studio sessions in schools, libraries, festivals, social centers etc…
> Is micro-edition only an artistic medium or can it be also used for activism?
It is both, with no distinction and in the most porous way possible. We want to give keys to anyone who wish to create their projects with shapes and words, it is a way to do activism. Whether you're an artist or not, appropriating such a significant object is not innocent. It means taking back power on your own narrative, it also means short-circuit the traditional production chain and sometimes very narrow «classical» edition. Since we've started the association, we are really eager to offer technics that are not expensive, that you can do at home, because here it is about sparking the interest and not only give a taste with no possibility to reproduce the experience again.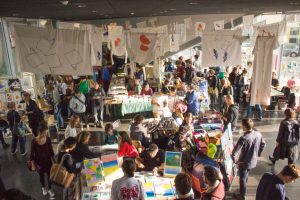 > Being located in Lille, how do you work on helping and supporting local artists? 
At the Piñatas we really care about federating a group of supportive and solid artists. We share and mutualize the knowledge inside the association, as well as the equipment. We offer collaboration between artists, exhibitions, fairs, workshops, study groups, live drawing, etc. For us it is about creating a welcoming space where everyone feel safe in trying and even failing. 
> Why did you chose to go to Norway for your next project? Is it important for Les Piñatas to have an international aspect?
We've discovered the work of the collective Pamflett, who organizes the Bergen Art Book Fair and quickly got the desire to create bridges between their festival and our festival Microscopies, as well as between our two collectives. The way we work is very similar, and this international opening is very rewarding and instructive. It helps us to learn new ways of working, of having a collective and to share our knowledge and artistic practices. 
> How did the current pandemic changed your relationship with micro-editing and in a more global way, with your work? 
How we work has been shaken. Particularly in the writing of our last edition «Survivre à la balade», as we had to keep on co-writing it remotely from each other.  We wanted this remote type of work to be visible in the edition, which gives a special and singular aspect to this project. Production time is now also really stretched. We had to postpone an entire section of our festival Microscopies. This crisis is reinforcing our desire to create a deep supportive network, to disseminate knowledge, to share tools and to be stronger through the collective.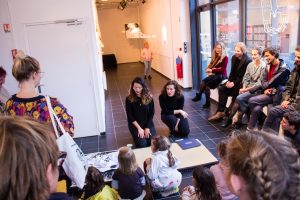 Photography: ©Luna Lambert, ©Aurélie Kabul