Participate in our Instagram nordic photo contest «My postcard from France» and win a round-trip to France, to go back to the city of your studies and see your friends again! The principle is simple: share the photo which best illustrates your experience until 30/10/22.
🔷 What is «My postcard from France» photo contest and what can I win?
The French Institutes of Denmark, Estonia, Finland, Norway and Sweden are launching the first edition of their photo contest, designed for Nordic students studying in France. Participate and try to win:
a round-trip (train or plane) to France worth approximately 300€
a polaroid camera worth approximately 120€
an e-reader worth approximately 80€
Your photo can be of a place you love, an unforgettable memory with friends, an activity that particularly marked you, a moment related to your studies, etc.⠀
So don't wait any longer and grab your camera!
🔷 Who can enter this photo contest?
Any resident in Denmark, Estonia, Finland, Norway or Sweden
Any student over the age of 18, spending either the Spring or Fall semesters 2022 in France for an exchange mobility (studies, internship, volunteering, language programme) or as a free mover
Any follower of the Campus France Instagram account(s), at least of your home country
🔷 How can I participate and which description should go with my photo?
To take part in the contest, nothing is easier: you simply have to create a new publication on your Instagram account. In that post, share the photo of your choice from your time in France, tag us and add the following text in the description section (after filling in the missing gaps with your personal information):
📷 … (short description of the picture), one of my favourite memories of my stay in France!!
✨ I am … (First name) from … (City, Country). This year, I am studying … (subject) at …(Higher education institution) in … (City), France.
🇫🇷 Here is my participation to the photo contest #Mypostcardfromfrance organised by Campus France Nordic.
#Mypostcardfromfrance #Campusfrancenordic #Rendezvousenfrance @campusfrance­_danemark @if_estonie @campusfrancefinlande @campusfrancenorge @campusfrancesverige
Here below an example of what is expected from you!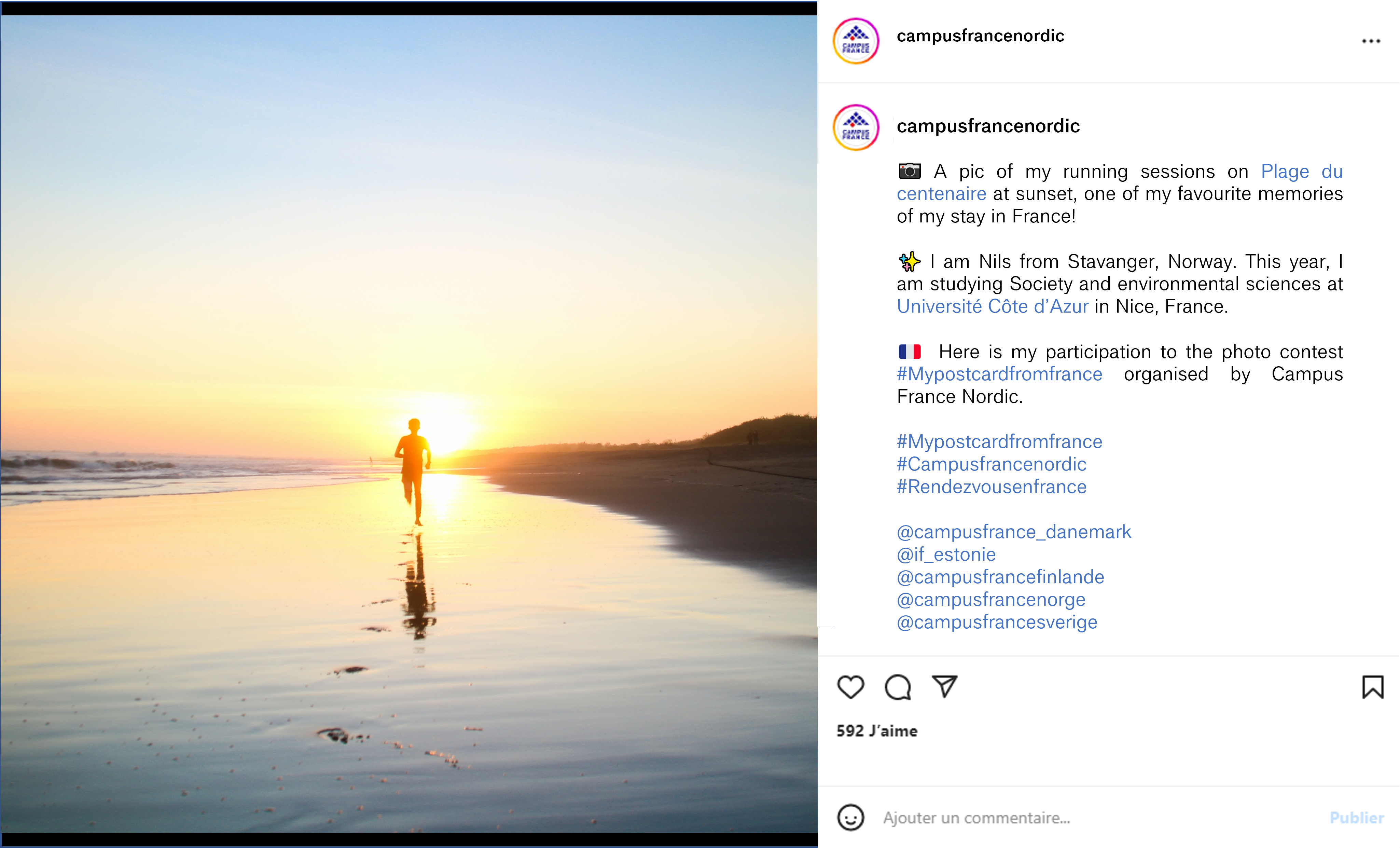 The different contributions will be reviewed in a two-step process: first, the contest organisers will make a pre-selection and then the final winners will be chosen by a popular vote organised on Instagram. For more details, please read the Contest rules and regulations.
Let your imagination runs wild! All creations, abstract or realistic, serious or funny, are accepted. We count on you to make us dream and travel 😉
For any inquiry, please contact contact@campusfrancenordic.com.
We look forward to receive your many contributions!