Institut français de Norvège is pleased to support season 7 of podcast Frankrike forklart produced by Kjerstin Aukrust (UiO), Franck Orban (HiØ) and Geir Uvsløkk (UiO).
In each episode, the editorial team brings in knowledgeable and Francophile guests on important topics, to understand what is going on in France today, and to learn more about the country's history, politics, and culture.
Listen to the new episode of June 19th, 2023 (episode 88): En samtale med Frankrikes nye ambassadør til Norge. with Florence Robine (Ambassador of France to Norway)
In the final episode of the season, the editorial team gets to know the new Ambassador of France to Norway, Florence Robine. How did she become a diplomat and how does she see the relationship between Norway and France? This episode is in French.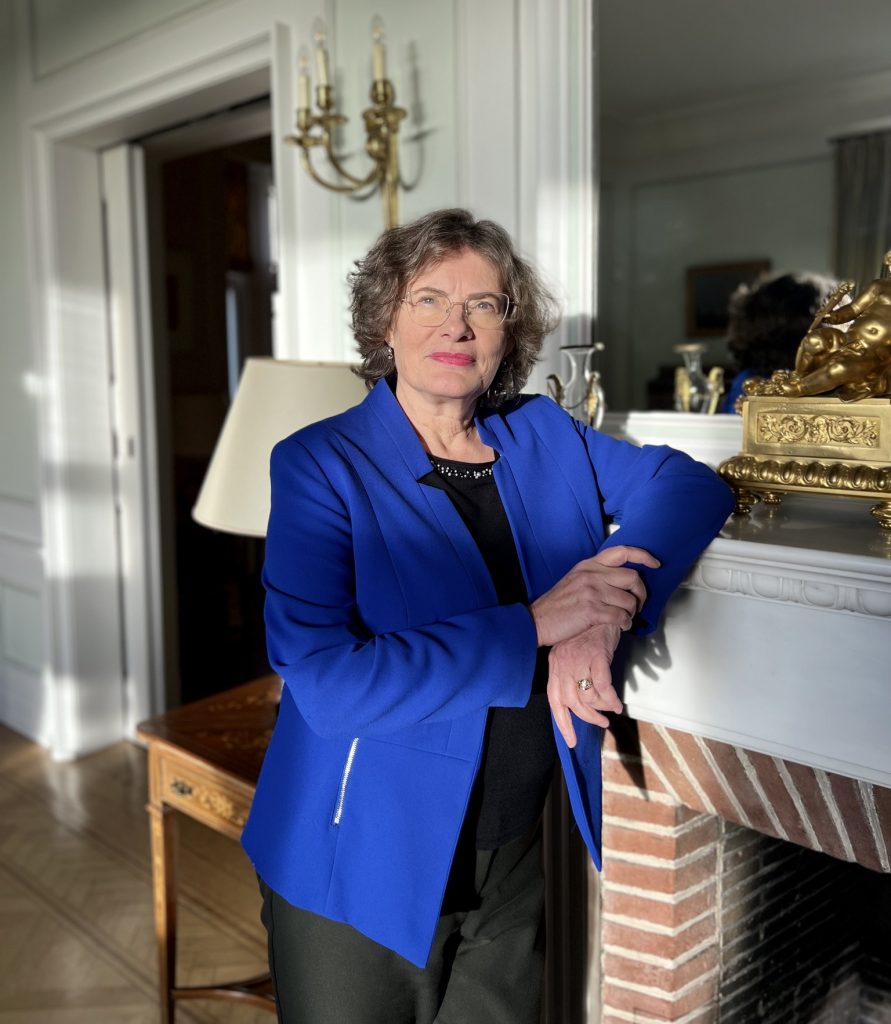 Episode 87 (June 5th, 2023): Kan Paul Ricœur hjelpe oss med å forstå Macron? with Bjørn Kvalsvik Nicolaysen (Professor of Hermeneutics at the University of Stavanger)
This week episode gives a closer look at the philosopher Paul Ricœur. Emmanuel Macron was his assistant for a period of time and has never hidden the fact that he has been inspired by him, both before and after he became President of France. What is Ricœur's philosophy about and to what extent did Macron follow or break with his teachings?
Episode 86 (May 22nd, 2023):Hvor kommer det franske språket fra? With Christine Meklenborg Nilsen
This week episode is about the origins of the French language. Where does the French language come from? How has it evolved over the centuries? What are the main differences between today's French and the spoken French from the Middle Ages or the Renaissance? To learn more about the history of the French language, we have invited Christine Meklenborg Nilsen, French teacher at the University of Oslo.
Episode 85 (May 8th, 2023): Hvordan lykkes som norsk forfatter i Frankrike? With Aslak Noré
In this episode of Frankrike forklart, we receive the Norwegian best-selling author Aslak Noré. He is currently working on his novel «Havets kirkegård», which was recently published in French under the title «Le cimetière de la mer». He talks about the French book industry, his encounter with French readers, and the French fascination with Nordic crime novels.
Episode 84 (April 17th, 2023): Hvordan er det å være fransklærer i Norge? With Anita Nyberg and Nils Yngvar Bøe Lindgren (French teachers)
In this episode we focus on the best job in the world, namely French teacher. Why did you choose to become a French teacher? How do you pass on the French language and culture to Norwegian students? What are the strengths and challenges of this profession? Our guests are two experienced French teachers, Anita Nyberg and Nils Yngvar Bøe Lindgren.
If you want to know more about the episode, read here the related column written for Frankrike Forklart by Ingvild Nielsen, Anne Øfjord and Selma Tanovic, all three teachers of French in Norway and members of ANEF: Norwegian Association of Teachers of French (Fransklærerforeningen i Norge).
Episode 83 (March 27th, 2023): Hvem er Nobelprisvinneren Annie Ernaux? with Sandra Lillebø (author and critic)
This week, we take a closer look at the work of one of France's most important contemporary writers: Annie Ernaux, winner of the Nobel Prize! Annie Ernaux has long been a well-known author in France, and in recent years she has become increasingly well known in Norway. But what characterizes her writing? What is her place in contemporary French literature? And why did she receive the Nobel Prize for Literature in 2022?
Episode 82 (March 13th,2023): Frankofoni spesial – franskspråklig litteratur i India. with Ari Gautier (author and writer).
On the occasion of the International Francophonie Day, celebrated on March 20th, this week's episode is dedicated to the Francophone literature in India. Why did 300 years of French presence in India through Chandernagore, Yananon, Pondicherry, Karikal and Mahé not lead to the early emergence of a local Francophone literature? What is the scope of this literature today?
Episode 81 (February 27th, 2023) : Hvorfor er franskmenn så skeptiske til pensjonsreformen? with Idar Helle (Norwegian and European professional historian)
In this episode, the team takes a closer look at the reform of pensions. What does the proposed reform really consist of? Why does President Macron think it is necessary? And why are trade unions and most French people skeptical?
Episode 80 (February 13th, 2023) : Hva vil de grønne i Frankrike og Norge? with Arild Hermstad (Green Party – MDG)
Episode 79 (January 30th, 2023): Er det norsk-franske undervisningssamarbeidet i krise? with Tove Gravdal (journalist and author).
Episode 78 (January 16th, 2023): Hva skjer i Frankrike i 2023? with Tove Gravdal (journalist and author).
This podcast in Norwegian is one of the most listened to in Norway. You can find all the previous episodes on the usual podcast hosting platforms and on UiO's website: https://www.hf.uio.no/ilos/tjenester/kunnskap/frankrike-forklart/episoder/.