From August 13th to September 27th, Fotogalleriet, Oslo Kunstforening and TrAP (Transcultural Arts Production) are pleased to present The Nordic Chapter: an exhibition of the French-Moroccan artist Bouchra Khalili.
This is her first solo exhibition in Norway. It is divided on two different sites and focus on her work from the past 10 years, through different medium: video, photography, installation…
The work of Bouchra Khalili is looking at the difficulties of immigrants and their descent in Europe and the US. She brings together individual stories with collective history, while questioning solidarity and civil rights movement. Among other things, she has worked on Jean Genet, notably in her film Twenty-Two Hours (2018), where she follows his 3-months stay with the Black Panthers in the US. This work can be seen at Oslo Kunstforening.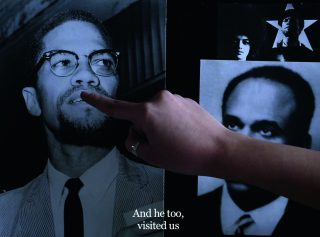 The Nordic Chapter, from 13th of August to 27th of September, at Fotogalleriet (Møllergata 34, Oslo) and Oslo Kunstforening (Rådhusgata 19, Oslo).
More info on Fotogalleriet's website and on Oslo Kunstforening's website.
Illustration 1: Hôtel El Safir, Ex-Aletti, Algiers city center.
Residence of the Black Panther Party delegation during the 1969 Pan-African Festival of Algiers. Fig. 1: Entrance of the former Casino From Foreign Office, mixed media installation, 2015. C-Print. Courtesy of the artist and Mor Charpentier Gallery, Paris.
Illustration 2: Foreign Office. Digital film. 2015. 22′. From Foreign Office, mixed-media project, film, photography, silkscreen printing.
Commissioned for Sam Art Prize, 2013-2014. Courtesy of the artist and Mor Charpentier Gallery, Paris