Sigurd Jovik Bræin is a young musician and composer from Norway. Very interested in France, he often works with artists from different backgrounds. This year, he is producing a single called "Parlons de l'essence", bringing together Norwegian musicians, French-Algerian female rapper and French artwork. Before its release, we asked him a couple of questions.
> Can you tell us more about your background? What made you want to work within the music industry?
It all started with a Beatles song, that I've heard during summer 1997. I was so surprised by this music that I had to find an instrument as soon as possible to play it. And that's what brought me to start taking guitar lessons when I was seven. Later, I played for several years in a pop/rock trio, for which I also wrote songs. Together we had our 7 minutes of fame on the radio, 3 on TV (with the king and a 93-years-old singer), some hours of fame in an abandoned cinema and even around forty stages in Oslo.
Thanks to the music education in high school and university, I learned to appreciate classical music. I studied composing and orchestration. Since I've never played classical music myself, I mostly took the opportunity to include various instruments in my modern music, to combine tones and sounds from different worlds.
I wrote my master thesis in musicology on music from the Balkans. I have definitely found a lot of inspiration from these styles, among others the gypsy music from Eastern Europe. As a guitarist, I also discovered French gypsy jazz and I have replaced the electric guitar with a guitar specially made for this style, in that time.
The past years, I had the pleasure of collaborating with very talented musicians, for concerts and recordings. I also worked with circus and theatre shows, as a composer and musician.
> What relationship do you have to France? Where do this passion come from?
At first, it was the language itself, with its sounds and its words. After learning some of it in middle school and high school, and during my years in university, I had discovered several facet of francophone culture: books, French music from the 60s to today and French contemporary cinema, with its treasures that don't even have English or Norwegian subtitles. Today, I like French for the same reasons, and I have several good French friends that I can thank for teaching me the language.
> Why did you choose to work with French-speaking artists on this project? How is this collaboration going?
I got this idea 5 years ago: writing something to use as a background, more organic than an ordinary beat for a rapper. I wanted to include rap as an instrument, paying attention to the sounds and tones. As French is the language that has the best sounds to make rap (in my opinion), with the nasal and French -r- sounds, I started to look for a French-speaking artist, willing to do such a collaboration. I ended up listening to 300-400 rappers and I can definitely see that even if rap is not dead, it has changed a lot the past few years… There are not that many artists that are doing actual rap music: with a quite strong flow to handle the rhythm even with no music, with play on words, rhyme and rhythmic variations. And even less with interesting lyrics.
Luckily, I discovered the very talented rapper Sensei H, after her album "Le but du jeu" came out. She is an artist that knows how to write lyrics and to interpret them exactly like in the good old days! I've sent her the instrumental music that we had already recorded in Norway. She agreed to write the two rap verses that I needed. Currently, we are working on the final mix with her voice on (send via email from Québec, where she is currently located).
Since the whole project has a francophone aspect (Congolese music, European baroque music, gypsy jazz, French rap), I thought that having a cover made by a French artist would be perfect. I then searched a bit more on the web and found the graffiti artist K2B, who is now part of this French-Norwegian project.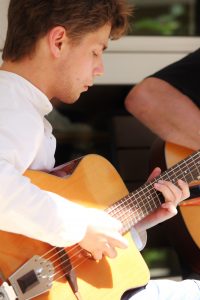 > You are working a lot with gypsy music. Where does your passion for this music came from?
It is thanks to the concert of Jon Larsen and Hot Club de Norvège that I discovered gypsy jazz (I think it's the case for the majority of the Norwegian public that listen to that genre). There is in this style a unique combination of energy, speed, melancholy and humour.  Easy to listen, but not so easy to play perfectly! Thankfully I happened to have lessons with Jon Larsen himself during my studies. I was his first (and last) student, before Larsen changed career path and became a stardust researcher (!).
Between 2014 and 2018, a gypsy jazz sphere emerged in Oslo, thanks to Oslo Stringswingkollektiv. They had jams sessions every Sunday evening at Django Bar in Grünerløkka. These events were very important for inspiration, learning and meeting between musicians of every levels and for gypsy jazz amateurs. It is extremely important to have arena to experiment and train, without having to prepare a full professional concert.
It is also worth mentioning the great festival Django Reinhardt in Oslo, that present the most famous name of gypsy jazz in the world, every January since 1980! What a vibe, what a community, what an inspiration!
> How are you trying to incorporate this music, as well as different world music, in the singles you are producing?
I first and foremost try to use musical elements that I liked when I heard them in other genres. Sometimes it's harmonies, sometimes rythms ou ornaments. Other times, it is the instruments (or a specific combination of instruments) that represent a genre. In other words, the main goal for me is not to play with these elements as cultural representations or symbols, but more to create something nice to listen to, while mentioning inspiration as you should.
In "Parlons de l'essence", I took as a starting point the simultaneous guitar figures that you can find in the Congolese sebene and developed them in longer sentences. There is an oboe following the rap in every verse, before closing every part with a viola, in a typical classical rate. It is mostly close to the end, when the guitar solo joins the viola, that you can hear the gypsy jazz inspiration. But it is also in the sound of the gypsy guitar that is endlessly playing during the 3 minutes of the song.
> You also work a lot with street art. How has this community developed in Norway?
Yes, it's true, I often use street art on my visual material for my releases. For me, it is probably from a certain nostalgia. Born in 1990, I was too young to follow the internal development of the graffiti community, which mostly took place after the release of the movie Beat Street in 1984 and in the 1990s. However, this cultural expression was surrounding us during our childhood. It is probably why I feel something for this style today.
We have to notice that the way this art is expressed today, and hip-hop art in general, is way less strong nowadays than it was before. After it was recognized by most people and presented on public walls in big cities. For a long time now, rappers have been invited to sing to big Christmas concerts (at the royal castle for example), next to classical artists. The first time, it was maybe charming. Then we saw that we slowly killed the identity and opposition linked to that culture since its beginning, rather than helping it. Today, we can only use those elements freely, as visual or musical elements, plainly.
> How do you see the future of music in Norway, after the pandemic?
One thing is sure, it's that we will keep on creating and consuming music. The question is more on where and how. During the pandemic, high-end solutions were developed to broadcast cultural events online. But even the best digital alternatives could never fully replace the experience of a real concert, with musicians facing the public in the same room, surrounded by warmth and smells. It is also the topic of "Parlons de l'essence", the importance of a direct contact between people, nowadays.
I am mostly worried about eventually losing the small and independent venues. First of all because they are extremely important for the musical diversity. We have to keep arenas that give to the public new things, that they don't already know of, in concert. Then, because it is crucial when recruiting someone to have stage on which you can experiment and practice. No one can directly go to the biggest stage and play perfectly well, you have to start somewhere.
To conclude, I want to add that many of the independent concert venues are above all highly competent institutions, with deep traditions. You cannot open them back up easily if they went bankrupt. Let's hope we will still have place to go to listen to music at a concert, and let's go there to enjoy the diversity as soon as possible!
Listen to his latest single in collaboration with a French-speaking rapper, click here!